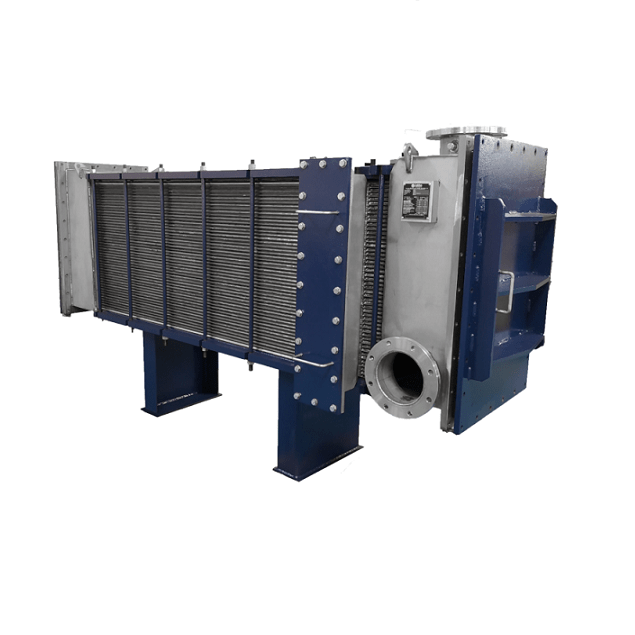 Labbe Process Equipment: your heat exchangers manufacturer
Welded plate exchanger Weplex®, which principle?
Welded plate exchanger Weplex® proposes high thermal performances and whose purpose is the recovery of sensible heat on liquid or gaseous effluent.
This exchanger is a wide-channel laser spot welded plate heat exchanger. The welded plates of the exchangers with their network of point are then deformed by hydroforming so as to constitute the heat exchange circuit between the two fluids. The heat exchanger permits a heat energy transfer from a primary fluid "heating" to a secondary fluid "heated".
These fluids circulate within the exchanger between the plates in different ways (co-current, countercurrent or cross flow) and can be air, water, a gas, a liquid ... etc.
With their wide-channel, heat exchangers Weplex® are perfectly adapted to exchange on difficult fluids, loaded with suspended and viscous material.
A welded plate exchanger, what interests?
Thanks to an innovative patented design, the welded plate heat exchangers are compact and robust, thus giving rise to various advantages: on the one hand in terms of the volume to be treated and on the other hand in terms of reduced bulk.
The plates of the exchanger can be made in different materials including Duplex Stainless Steel particularly recognized for their resistance to corrosion and their excellent mechanical resistance.
In addition, they have high thermal performances with optimized product flow velocity, minimized pressure drop and reduced space area.
Also, the design of our plate heat exchangers permits an easy inspection. Indeed, its 4 sides are removable.
Finally, the welded plates heat exchangers can be used in monophasic, condensation or evaporation. They adapt and can operate at high pressures (40 bar) and high temperatures (400 °C).

A welded plate heat exchanger, for which applications?
The fields of activity of the exchangers are various. Indeed, it's an industrial equipment that we can find in particular in:
---
Expert in the design and manufacture of heat exchangers for more than 70 years, Labbe Process Equipment will bring its expertise and know-how to offer solutions adapted to different areas.
We invite you to discuss with our experts about our Weplex® heat exchangers either via our online chat or via our form.
Also, we have put at your disposal a section "Price request" to make your price requests directly online.
Finally, do not hesitate to contact us on +33 (0) 1 64 42 53 53 for a design adapted to your needs.