Since 1948, the satisfaction of our customers is the goal of the boilermaker Labbe Process Equipment.

Labbe Process Equipment is also a large export area, in line with its desire of global development. Indeed, the satisfaction of our customers is at the heart of the objectives of our company. The loyalty of our customers and the reputation of the stainless steel Labbe Process Equipment are the best evidence of our commitment.
Exportation
Labbe Process Equipment is an international boilermaker and has specialised in the design and manufacturing of Stainless Steel process equipment.

– Europe : France, Belgium, Spain, Germany, Switzerland, England, Netherlands, Italy, Sweden, Denmark, Poland, Austria, Czech Republic, Russia
– North America : Canada
– Asia : Jordan
– Africa : Tunisia, Egypt, South Africa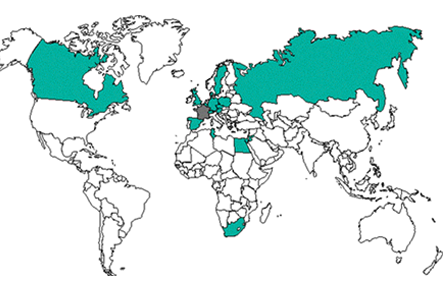 International designer and manufactureur
The company Labbe Process Equipment has a real desire to develop in the world, it has achieved several benefits for foreign countries.

Thus, the quality of our equipment is our asset. Indeed, thanks to our technical means we are now able to design and manufacture various Stainless Steel equipment such as:
– Heat exchangers (welded plate or finned tube)
– Industrial reactors (simple or double jacket, half pipe coil, internal coil …)
– Columns (distillation, absorption, internals …)
– Tanks (pressure, storage, dimpled jacket)

In addition, our 15,000 m² industrial workshop allows us to control all the manufacturing phases of your equipment internally.

Finally, the Company Labbe Process Equipment is certified ISO 9001 since 1993 and follows the regulations DESP 2014/68 /EU. Labbe Process Equipment can answers to different industrial needs: perfect hygiene and sterility for food industry, a fine finish for the pharmaceutical industry, and anti-corrosion materials for chemical and petrochemical industry.