Process equipment design
Labbe Process Equipment has his own integrated design office to perform mechanical engineering, heat exchanger thermal design, column process studies, construction codes and material expertise.

Indeed, thanks to its design office, Labbe Process Equipment helps you to define as well as technically improve the design of all your stainless steel equipment.

From your technical specifications, Labbe Process Equipment realizes the mechanical design, thermal design but also the thermodynamic design of all your equipment in stainless steel and nickel alloys.

All this is done according to the construction codes applicable :
TEMA, CODAP 2010, EN 13445, ASME as well as AD MERKBLATTER.
Also our company follows the regulations PED 2014/68/EU.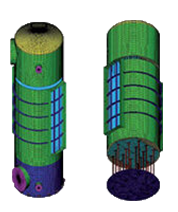 Mechanical engineering
Labbe Process Equipment process equipments uses the latest calculation software to perform mechanical engineering : microprotol, Cesar II and finite elements.

Distillation column design
Labbe Process Equipment is your best partner to find the optimum solution for your distillation unit thanks to column process studies.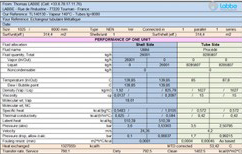 Heat exchanger thermal design
Labbe Process Equipment is the french specialist of heat exchanger design for condenser, boiler, cooler, heater and evaporator.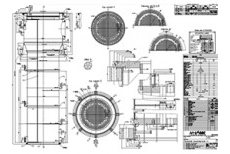 Construction drawing in 2D 3D
Labbe Process Equipment carries out construction drawings in 2D and 3D for all types of process equipment. Labbe uses Autocad and Pro engineer.