Labbe Process Equipment expertise
Labbe Process Equipment carries on a sustained investments policy integrating regularly automatic welding machines (Column and Boom, Seam, Orbital welding machines) in order to ensure the highest quality level together with short delivery period.

The company Labbe Process Equipment also applies a continuous training policy in order to maintain welders qualifications as well as high expertise level.

Labbe Process Equipment is familiar with latest welding technologies used for Stainless Steel and Nickel Alloys, like GTAW, GMAW, SAW, Plasma and laser.
Welders training policy
Labbe Process Equipment guarantees you a welders expertise thanks to continuous training of its boilermakers and ESSA welders IWE certified.
Welder qualification
The qualification of our welding procedures (QMOS) has been made according to the standards: NFEN 15614 and 288.3, ​​AD 2000 Merkblatt HP 2/1, ASME IX.
The welder qualification (QS) has been made according to the standards NFEN 1418 and 287.1, AD 2000 Merkblatt HP3, ASME IX.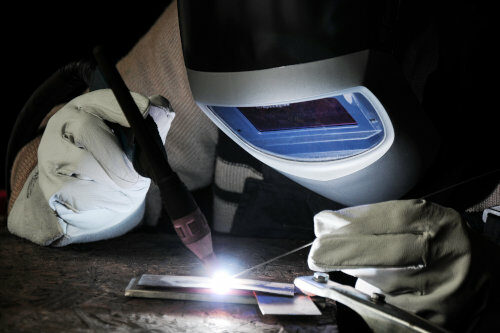 Manuel welding
This technologie is used for all welds which can not be performed automatically like welding on tube flanges, gussets, nozzles…
They are corresponding to butt, lap, tee or corner joint welds.
Technologies used are:
GTAW
GMAW – semi automatical
Automatic welding
This technologie is used for all longitudinal and circular welds.
Plasma seam and automatic GTAW welding
SAW (submerged arc welding
Orbital welding is used for tubes on heat exchangers tube sheets.
Welding quality is ensured by qualified operators on each welding technology.
Laser welding
Labbe Process Equipment designs and manufactures its own thermo plates used for advanced heat transfer technology.
Customer benefits :
Cost-effective
High heat transfer coefficient
Low fouling due to high turbulence
Taylor made and optimized design