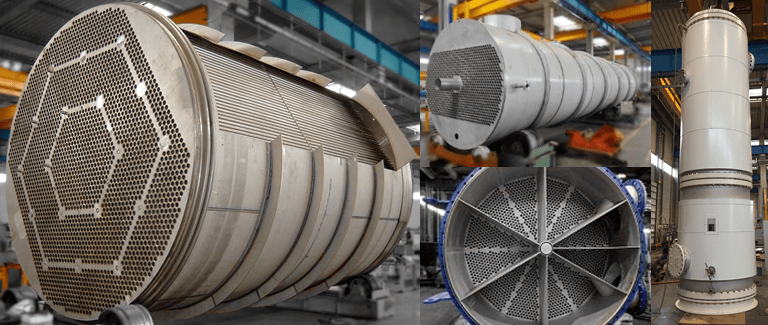 Tubular exchangers Labbe Process Equipment
A true expert in heat exchangers, Labbe Process Equipment designs and manufactures tubular exchangers.
Very common in the industry, these are exchangers with a shell: an envelope within which a bundle of tubes is placed, either vertically or horizontally.
The exchangers offered by our company have high performance and are particularly robust. Like other heat exchangers, the tubular is based on a principle of fluid exchange, the "primary" and the "secondary". One circulates inside the tubes and the other inside the shell.
The fluids circulate either co-currents, counter-currents or cross currents and can allow an exchange :
Gas / gas
Liquid / liquid
Liquid / gas
…
The tubular heat exchangers designed and manufactured by Labbe Process Equipment withstand pressures up to 40 bar and temperatures up to 400°C.
In addition, all our equipment can be dimensioned in :
Stainless steel 304L, 316L, 316Ti, 321, 310S
Duplex U45N, U35N
Uranus B6
Nickel alloy C22, C276, C2000
Incoloy
A tubular exchanger, for which applications?
Tubular exchangers proposed by Labbe are applicable to various fields:
chemistry,
petrochemicals,
the pharmacy,
food industry,
sugar industry,
the distillery,
energy
The different types of tubulars:
Tube and shell heat exchangers can therefore have different roles within a production unit :
Condenser: refrigeration system that allows a heat exchange between a refrigerant and an external environment, ensuring the change of state of the fluid at constant pressure and then its desuperheating and its under cooling.
Cooler: to cool a liquid.
Boiler: the main objective is to partially vaporize bottoms of distillation columns.
Heater: to heat a volume of liquid or gases.
Evaporator: its objective is to concentrate a solution thanks to a contribution of energy to make a change of state of the liquid phase to the gaseous phase.
Crystallizer: it will isolate a product to recover it in a solid form.
The manufacture of tubular heat exchangers
The whole tubular manufacturing process is done in our workshop in Tournan en Brie, near Paris and Marne la Vallée.
Indeed, the steps of sizing are directly carried out by our integrated design office that will choose the most appropriate technology according to the customer's request and the role that will play the exchanger. The thermal power, the necessary heat exchange area and the allowable pressure drop are then determined.
In the same way, the realization of the apparatus takes place internally in our industrial workshop of 15.000 m² without any subcontracting.
---
Expert in the design and manufacture of heat exchangers for more than 70 years, Labbe Process Equipment will bring its expertise and know-how to offer solutions adapted to different areas.
We invite you to discuss with our experts about our tubular exchangers either via our online chat or via our form.
Also, we have put at your disposal a section "Price request" to make your price requests directly online.
Finally, do not hesitate to contact us on +33 (0) 1 64 42 53 53 for a design adapted to your needs.