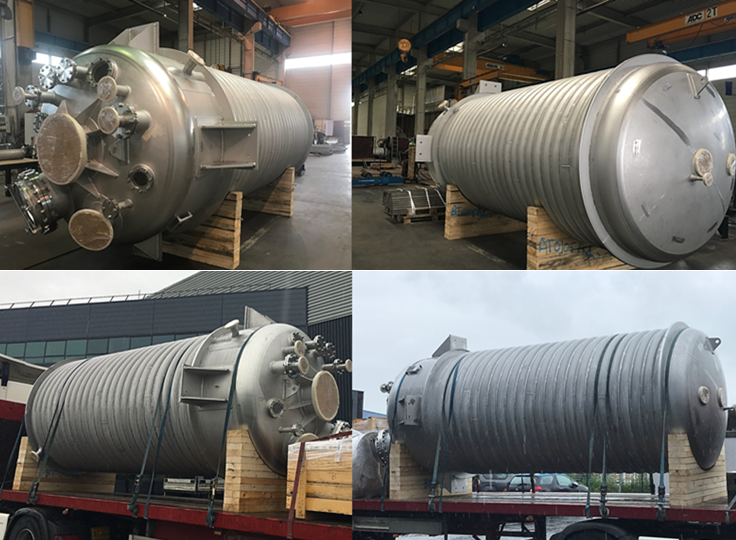 Stainless steel reactors
What is a reactor ?
Industrial stainless steel reactors designed and manufactured by Labbe Process Equipment are essential equipment in chemistry.
Indeed, a reactor is a stainless steel container that allows the realization and optimization of a chemical reaction. That is, transforming molecular species into others.
The different types of reactors
With our technical means our company is able to design and realize several types of devices :
Dimpled jacket tanks : a fluid circulates within a dimple jacket. It's laser welded to the reactor to ensure : maintaining temperature, reheating or cooling of the products contained.
Half pipe coil reactor : a half pipe coil is an external circuit that will be welded to the reactor. This allows a maximum amount of fluid to flow and thus maximize heat exchange.
Internal coils : a liquid heating or cooling circuit that is placed within the reactor.
All of our reactors are fully custom made to fit perfectly with different industrial needs.
Here are some of our realizations :

---
Expert in the design and manufacture of process equipment for more than 70 years, Labbe Process Equipment will bring its expertise and know-how to offer solutions adapted to different areas.
We invite you to discuss with our experts about our tubular exchangers either via our online chat or via our form.
Also, we have put at your disposal a section "Price request" to make your price requests directly online.
Finally, do not hesitate to contact us on +33 (0) 1 64 42 53 53 for a design adapted to your needs.