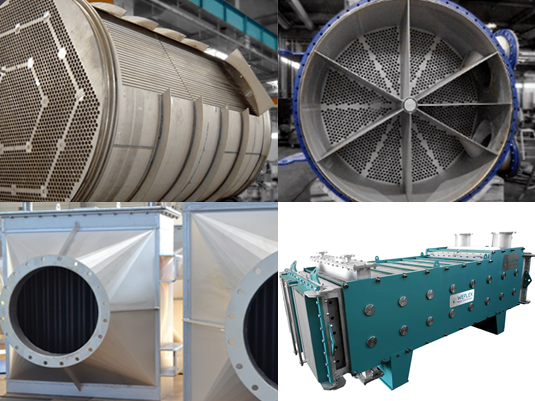 Heat exchangers Labbe Process Equipment
Labbe Process Equipment is an expert company in design and manufacture of heat exchanger.
For more than 70 years we have been using our know-how and offering stainless steel heat exchangers.
The exchangers are widely used in the industry. Their main role is to ensure a transfer of thermal energy from a fluid to another fluid without these being in contact.
It's thanks to the exchange surface that the heat flux that separates the fluids circulate. When this exchange surface is large, then the heat exchanger is all the more effective.
The fluids circulating in the stainless steel device can be of different natures and circulate in 3 ways:
The heat exchanger, or thermal exchanger, allows to cool, heat or condense a liquid.
The ranges of Labbe Process Equipment exchangers
Exchangers are equipment whose functions are numerous and varied, thus, there are several types of devices adapted to various applications :
They are robust and reliable equipment that withstands high temperatures and pressures.
Main applications : • Gas/ Gas • Liquid/ Liquid • Liquid/ Gas.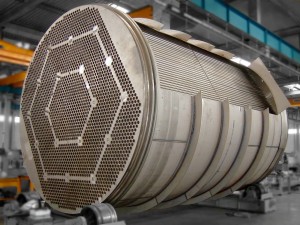 Labbe Process Equipment offers several ranges of plate heat exchangers but in particular has developed an innovative and patented technology: the Weplex®.
These devices have high thermal performances and result in minimal losses. In addition, the welded plates heat exchangers are easy to maintain and their compactness makes them easy to integrate into the production units.
Main application : • Liquid / Liquid • Condensation • Evaporation • Gas / Gas • Gas / Liquid • Air / Water.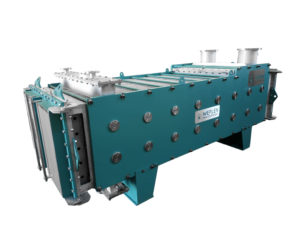 These are devices that allow a quick return on investment. Also, they are usable with fuel oil and fuel gas.
All Labbe Process Equipment heat exchangers are made of various materials such as stainless steel and Duplex.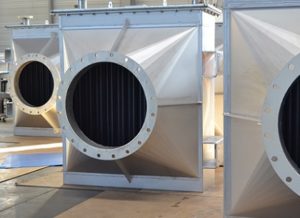 The composition of a heat exchanger :
Labbe Process Equipment offers a wide range of heat exchangers. The latter are most often composed of a tube bundle or a bundle of plates, a shell and distribution boxes.
All our exchangers are subject to strict construction standards and their design follows the TEMA regulation "Tubular Exchanger Manufacturer's Association".
Labbe heat exchangers are entirely designed and manufactured in our company. Indeed, we have on the one hand, an integrated design office, and, on the other hand, an industrial workshop of 15,000 m². The latter allows us to control all phases of product manufacturing internally. We manufacture our products without any subcontracting and in short time.
The fields of activity of heat exchangers
Heat exchangers are rapidly growing equipment and their use is greatly appreciated in the following industries:
---
Expert in the design and manufacture of heat exchangers for more than 70 years, Labbe Process Equipment will bring its expertise and know-how to offer solutions adapted to different areas.
We invite you to discuss with our experts about our heat exchangers either via our online chat or via our form.
Also, we have put at your disposal a section "Price request" to make your price requests directly online.
Finally, do not hesitate to contact us on +33 (0) 1 64 42 53 53 for a design adapted to your needs.