Labbe Process Equipment, your manufacturer of heat exchanger compalex®
Welded plates heat exchanger Compalex® proposed by Labbe have high thermal performances with optimized product flow velocity, minimized pressure drop and reduced space area.
For example, welded plates condensers Compalex® are used to condensate vapors thanks to water or cooling medium going through the plates.
Technical specifications of COMPALEX NEU DN300 x 950 condenser type :
Used for gas/liquid applications
Heat exchange area up to 4,5 m²
Liquid flow rate up to 35 m3/h
Maximum gas pressure up to 10 bar
Maximum liquid pressure up to 10 bar
Manufactured in stainless steel and nickel alloys according to PED 97/2/CE
Thermal design according client specifications
French manufacturing in our workshop
Plot space : 1300 x 600 x 600 mm
Weight : 200 kg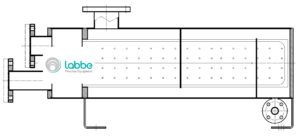 Please contact us at +33 (0)1 64 42 53 53 for a design according to your specifications
Labbe also design and manufacture tubular heat exchangers (condensers, boilers, heaters, coolers, evaporators,…).