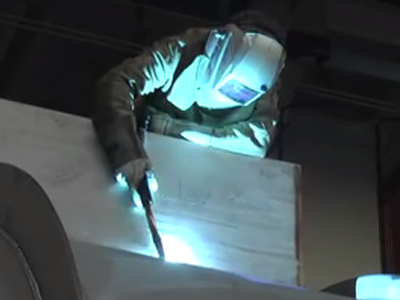 Project Description
LABBE PROCESS EQUIPMENT EXPERTISE
Labbe Process Equipment is an expert in welding.
TIG, MIG, SAW and plasma welding, Labbe masteres since many years the latest techniques used for stainless steel and nickel alloys. We are specialized in the design and manufacture of stainless steel and nickel alloy equipment since 1948. Our company has developed with a view to adapting to new technologies and changing skills. This desire has resulted in continued investments. Investments in the implementation of tools, methods and means adapted to the economic requirements and constraints of the market.
Labbe now has an industrial workshop of 15,000 m² ensuring the production of your equipment without any subcontracting.
WELDERS TRAINING POLICY
Labbe Process Equipment guarantees you a welders expertise thanks to continuous training of its boilermakers and ESSA welders IWE certified.
WELDERS QUALIFICATION
The qualification of our welding procedures (QMOS) has been made according to the standards: NFEN 15614 and 288.3, ​​AD 2000 Merkblatt HP 2/1, ASME IX.
The welder qualification (QS) has been made according to the standards NFEN 1418 and 287.1, AD 2000 Merkblatt HP 3, ASME IX.