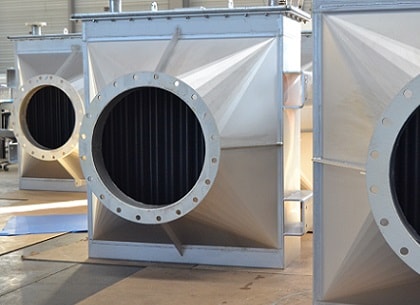 Project Description
FINNED TUBES EXCHANGERS-ECONOMIZERS ECOFINEX®
Labbe Process Equipment proposes a range of finned tubes exchangers-Economizers Ecofinex®.
In order to improve energy efficiency, Labbe has developed economizers which recover energy from flue gases.
The economizers can be installed in all industries which produce : flue gases, boilers, furnaces, steam boilers and industrial cogeneration plants.
This, in order to increase your efficiency by recovering energy from the flue gases.
The target of the economizer Labbe is to recover energy from flue gases :
Investment with short pay-back period,
Easy integration in existing units,
Used for fuel gas and fuel oil combustion,
Increase of unit efficiency
Finned tubes economizers are compact and has high heat exchange area. 
Labbe can calculates and designs our finned tubes exchangers based on your needs and constraints.