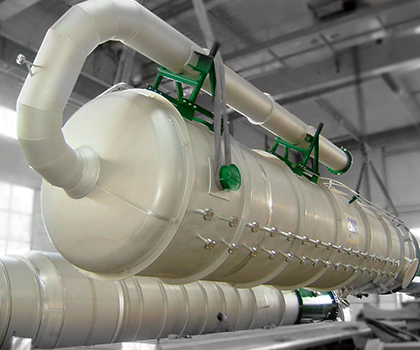 Project Description
DISTILLATION COLUMN
Distillation column, absorption and stripping columns are the most widely used separation technologies in chemical industry.
Their principle is based on different components activities (boiling points or affinities).
Rigorous sizing, rating and construction are required to obtain optimum columnperformance.
With more than 70 years of experience, Labbe masters all steps in manufacturing distillation and adsorption towers.
This, from sizing to the construction, without subcontracting, for all types of columns:
Distillation columns 
Stripping columns
Adsorption columns
Rectification columns
As a real technical partner, Labbe advises and works with its customers.
This, from the first stage of a industrial project up to the supervision on site.
Experts of Labbe use the latest calculation software to design and to manufacture our distillation tower according to all international standards.
Labbe process equipment offers you full installation of distillation process with :
boilers,
reboilers,
distillation columns,
condensers,
vessels
Furthermore, Labbe proposes you the automation of the distillation equipment.
Thanks to our unique production methods and facilities, Labbe meets competing demands at its production plant in France.
Columns can measure up to 7 meters diameter, 50 meters long and 200 Tons weight.